New York (Couture) Fashion Week
Project Details
New York (Couture) Fashion Week New Grand Gala
25 Feb 2023 , Malaysia
Venue: Wyndham Acmar Hotel
Project Description
THE WORLD'S most popular fashion show, the New York Fashion Week (Couture NYFW), will be hosted by Malaysia next year in conjunction with the Miss Plus World Malaysia (MPWM) Grand Finale Gala!
Scheduled to be held at the Wyndham Acmar Klang Hotel from Feb 24 to 25, the two-day event, titled New York Fashion Week Grand Gala, is being organised by MPWM in partnership with Couture Fashion Week New York (CFW) – one of NYFW's most prestigious events that presents a series of couture and luxury fashion shows in New York City, Cannes, Paris, and other selected cities.
In a statement, MPWM, CFW and Global Short Film Awards (GSF Awards) said the event aims at promoting body positivity and sustainability through fashion and beauty, as well as bringing an iconic international platform to Malaysia to turn it into a hub for top-class fashion in the region.
Hosting the New York Fashion Week Grand Gala here will also give Malaysian and all Southeast Asian fashion designers, models and filmmakers a chance to shine and go to the international level, they added.
Among the highlights of the event are exclusive fashion shows (featuring award-winning designer Andres Aquino's latest collections), music performances, short film screenings and national costume presentations.
The main highlight of the event, of course, will be the coronations and awards ceremonies on the final day, where the best model, fashion designer and short film will be selected and given free tickets to participate in the NYFWs in both the US and Cannes.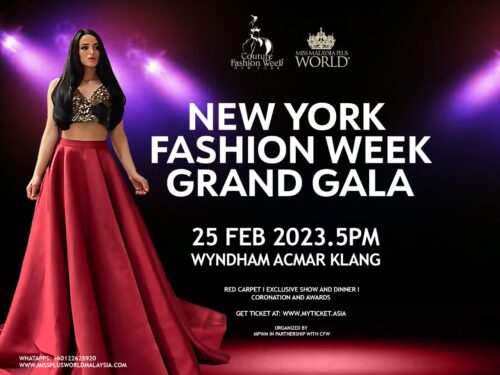 Founded in 2005 by Aquino, CFW presents a series of couture fashion and luxury shows multiple times each year in New York City and other selected cities. They include fashion shows by exceptional designers from around the globe, performances by world-class entertainers, luxury exhibits of art, accessories and other products, and VIP dinners.
"Our other major event is the GSF Awards gala and luxury fashion shows held annually in Cannes, concurrent with the Cannes Film Festival," Aquino explained.
Aquino, a New York-based entrepreneur, writer, event producer, global high-tech and luxury product marketer and fixture of the New York fashion scene, has been running the CFW for more than 30 consecutive seasons.
He is also the founder and director of the annual GSF Awards, a competition attracting exceptional films from more than 80 countries and which culminates with a black-tie awards gala in Cannes, also coinciding with the Cannes Film Festival.
MOU inked
On Nov 7, 2022, CFW, through its founder Aquino and representative in Malaysia Andrew Jackson, signed a partnership memorandum of understanding (MOU) with MPWM and Media Path Enterprise to organise New York Fashion Week Grand Gala in Malaysia every year.
Commenting on this, MPWM national director Ziin Britshi said hosting the NYFW – a first for Malaysia – is a great milestone and benchmark for his organisation.
"(Hosting the NYFW also) gives great opportunities to local models and fashion designers to participate and win tickets to represent their country in the US and Cannes' NYFWs and go to the international level," he said.
Models, fashion designers and short filmmakers interested to join the New York Fashion Week Grand Gala and vie for a chance to win tickets and represent their countries at the NYFWs in the US and Cannes can apply now!
Models can apply here, with casting to take place from Dec 6 to 10, 2022, while talented short filmmakers can submit their entries before Jan 15, 2023 – shortlisted short films will be screened at the New York Fashion Week and Grand Gala on Feb 25, with the selected Best Short Film to win a ticket to the NYFW in Cannes.
Tickets to attend this glam show, on the other hand, will be ready for public purchase on www.myticket.asia from 12pm tomorrow (Nov 16) onwards. – Nov 15, 2022
Main photo credit: Shutterstock
Read more about the event here at this news article:
https://focusmalaysia.my/malaysia-to-host-new-york-fashion-week-and-heres-how-you-can-compete/?fbclid=IwAR2Lcb4KypXXSmgfvriYgFeT4ubZfH1px2g2Q2rMJVe-IM2LaqPAOD7oB60